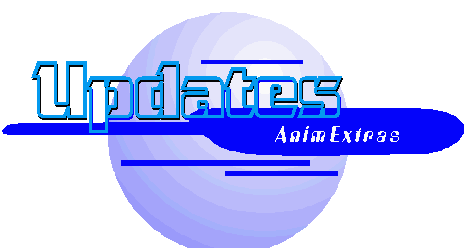 Updates
6/12/00 - I said I was back, but...I'm sorry!!! I really am!!! I'm still here, I'm still alive. There might not be additions, but I still love this site, and it's up to you guys to make it thrive! Start posting on the message boards or something!!! Anyway, another site won the award, stop by and tell them congrats!

3/31/00 - Oh, my poor neglected site! How could I do this to you??? Well I'm back now!!! And I won another award! I've been focusing most of my time on Manga Cyber City, since it was for a school project. I can't do the wonderful image making on this computer, but here are tons of other things I can add. Your feedback on what you want is appreciated!

2/18/00 - Decided to add Message Boards...creates a better sense of community, aye? So far there is the Evangelion Message Board to discuss the meanings of Evangelion. More coming soon!

2/13/00 - It's been a while, hasn't it? So sorry about that. Added 2 Slayers Mp3's and updated the inventory (which was getting a bit out of date). Sorry about neglecting to add much new stuff. I plan to do some big multimedia additions - maybe even image galleries, which I never do!
Later that day...I still haven't finished putting all my Sailor Moon MIDI onto the page, but you can see what's there so far here. There's still about 20 more songs not yet linked, I should get around to those before next week.

2/1/00 - Oooo, won a new award! Check it out, it's from The Anime Company...now wasn't that sweet?

1/21/00 - Added something totally new as a branch of AnimExtras...Chibi-Heart Productions! Just check it out for yourself :-)

1/17/00 - Oh happiness! Please check out the new Sailor Moon Web Designs! More designs will be coming soon...after I tackle that homework...

1/11/00 - Everyone send their congrats to Anime IQ for winning AnimExtra's award! It's a cool site, you should check it out. I'm sorry for not adding any extras lately...I've been busy with things, but I should start adding more soon thanks to our new scanner.

12/29/99 - Added VA Resume. Vacationing for a while, I'll update after New Years.

12/20/99 - The Rayearth CD finally came! Expect some sound clips soon. Added two Evangelion MIDI.

12/18/99 - Won a game of chess! Well, I guess that's a bit unrelated. Added a few Rayearth door hangers, plus a kawaii black and white Sorcerer Hunters gift box. Uploaded all SMoon MIDI, I plan to index them for use sometime this weekend or early this week. Made Webpage Tips article.

12/15/99 - Finally able to work on site through new home server! Updates will be more frequent now that I have home access to the internet. However, this computer doesn't have the wonderful programs I use to make the Extras. But oh well, we'll survive! Moved Inventory to separate page. Check it out, I've been linked to by Anime Genesis! Am thinking of stopping SMoon page and focusing all my internet energy on AnimExtras.

12/05/99 - Um...fixed some broken titles on postcards. Signed up for Anime Top 100...go to Links and click on the banner. Just clicking counts for a vote! Added Rayearth Mini X-Mas Calendar, began to experiment with Winamp skins. It looks like it will be a while...

12/04/99 - Fixed the updates page, added Rayearth to the QuickNav. (Thanks Mely for pointing that out!) Added inventory table (below). Also added Evangelion coasters, Rayearth postcards, and I fixed the Evangelion postcard images. Also got a bullet (wow big whoop) so the links on the series pages don't look so...dead.

11/26/99 - Continued the Promotional stage of AnimExtras (getting the word on on the WWW). Added Asuka car (stupid? cool?) and fixed up some messed up sizes with the Lina Christmas set. Plan to make pencil holder covers, more on that soon.

11/25/99 - Happy Turkey Day! Added an award to the Awards page, joined a couple webrings, too. Finally fixed the Guestbook! Oh, and big news, I won my first award for this page! Thanks, Anime Domain! Also, I added a set of Lina Inverse Christmas goodies! Wow, I love exclamation points!

11/21/99 - Put up an Awards page and a Links page. Hope to be inspired soon on some cool things for Evangelion.

11/7/99 - Fixed some broken pics, added a Hotaru bookmark. Guestbook still not working, I'll try to fix that soon. Added Polls/Surveys for you all. More polls soon.

11/6/99 - Finally started an Updates Page! Also started the new theme with the blue bar on the left. Cute, huh? These new headers are looking pretty spiffy also. I expect to the Magic Knight Rayearth locker organizers up sometime this weekend, and maybe make something for Sorcerer Hunters. Thanks for bearing with me while this site is still growing!